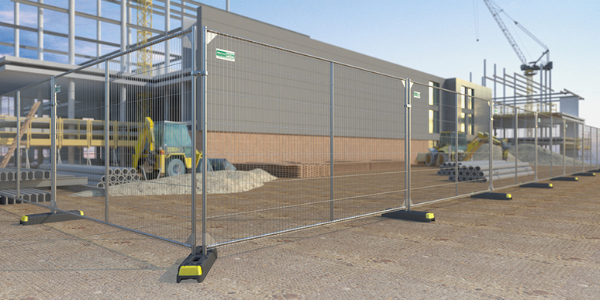 Advantages of Buying Instead of Renting 
Companies across many sectors are finding it more convenient to buy their own temporary fencing rather than renting – and for good reason!

So, why buy temporary fencing instead of renting? 
Savings
As a construction company or business, we know that your bottom line is important. When searching for a cost-effective solution, purchasing temporary fence panels will result in significant cost savings in the long run.
When you rent fencing per project, you essentially spend money every month for effectively no return. By purchasing temporary fencing, you can use your fence panels time and time again at a very economical price in comparison to renting. 
No Hidden Fees and Additional Costs
Renting fence often includes hidden fees and additional costs that can add up and put your project over budget. By purchasing temporary fence, it will provide peace of mind as there is only one initial payment, without any additional costs and hidden fees.
Control
Another added benefit of owning your temporary fence is that it allows you to be in control of your projects. Without the hassle of contacting a rental company to provide more temporary fencing, you can section off areas on short notice and eliminate the middleman so that you can install and disassemble as needed. 
Ability to Relocate
You will have complete control of how and when your fencing needs to be used. Never again will you have to rely on others, waiting on your rental company to deliver, install, or even relocate your temporary fence panels. 
When you own temporary fence panels, you have the freedom to relocate and re-install without extra costs. You'll be ready to comply with ever-increasing health and safety requirements.
Storage
Although, a lot of customers believe that storing our temporary fence may be difficult, Broadfence's fence panels are easy to move and easy to store! All you need is an easily accessible small corner in your compound. Find out more temporary fence space-saving tips here. 
Are you still unsure of buying temporary fence? 
Don't worry! We offer a Buyback Program that makes it easy for you to solve any issues that may arise from having unwanted or unneeded panels at the end of your projects. Learn more about our Buyback Program.
At Broadfence, we have plenty of inventory of our temporary fence panels on hand all the time. Get in contact with us for more information on purchasing your temporary fence like our Anticlimb Fence Panels!