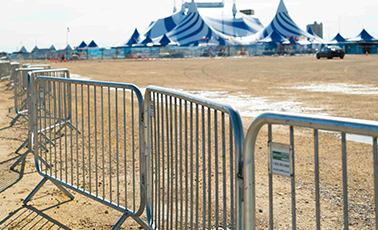 As businesses gradually reopen, and we inch our way back to pre-COVID-19 normalcy, outdoor events make are making a return!
With outdoor concerts, festivals, carnivals or similar outdoor events, crowd control management often requires temporary fence. Whether directing traffic, restricting hazardous areas or creating a seamless entrance and exit point, the goal of crowd control is to keep everyone safe. 
Here are some helpful tips for event planners for safe crowd management.
Line Queuing
Optimizing queue management is crucial when it comes to ensuring the health and safety of patrons. Crowd management at events often requires barricades to keep their entrance queueing separate from passersby and ideal for funnelling visitors toward the entrance and security checkpoints. You can set up temporary fence, such as Broadfence's Barricade Fence, at strategic places within any event to create bottlenecks to slow down traffic, create security points and limit access to certain areas. 
Gates
Crowd control fence is the perfect cost-effective solution to keep things orderly and ensure the safety of visitors. Ensure the safety of pedestrians and patrons by including a pedestrian area along the perimeter with barricade fence and set up gates at specific entry points where tickets are sold or collected to ensure a safe entrance. 
Direction
Safety aside, visitors need to know where to go and how to get there. The easiest way to provide clear direction is through crowd management barriers, as they provide visitors with a simple, clear and logical direction. 
Custom Signs
Turn any crowd control barricade into an advertisement for your business, event or sponsorships. Broadfence's Barricade Covers are ideal for any indoor or outdoor application. All custom barricade covers can be printed single- or double-sided, allowing your brand, advertisement, sponsors or safety message to be highly visible from any angle.
At Broadfence, we have plenty of inventory of our temporary fence panels on hand. Get in contact with your Broadfence rep today for more information on purchasing your temporary fence such as our Barricade Fence.