Ask us about our quick ship program
Ready to Ship
We have panels in stock that are ready to ship.
Buy What You Need
We will ship in part loads or truck loads, no problem.
Direct To You
Panels will be shipped directly to your site or yard.

Free Shipping
We provide free shipping all over the United States. 
Retail Crowd Control Packages
Temporary Fence Accessories
Water Filled Barricades & Fence Toppers
Free Shipping Anywhere in the United States.
Your Temporary Fence Leaders
When it comes to perimeter security, Broadfence offers the safest, most simple, and most secure temporary fence panel solutions. Protect and manage the crowds at your construction job site, event venue, or any vacant lot at a price that you can afford. We deliver your temporary fence panels or crowd control barricades right to your location, so all you have to do is set your easy-to-manage fence panels up. Whether you're looking for construction fence panels that are as durable as chain link, crowd control barriers that can direct the flow pedestrians, or even privacy screening to discourage site theft, Broadfence has the temporary fencing solution for you.
ADVANTAGES OF BUYING INSTEAD OF RENTING
Stop renting and starting saving. Buy new for less.
Renting means spending money every month for effectively no return. When you own temporary fence panels, you can use them again and again.
RELOCATE FROM JOB SITE TO JOB SITE
When you own temporary fence panels, you have the freedom to relocate and re-install without extra costs. You'll be ready to comply with ever-increasing health and safety requirements.
Put your company in control
Never again will you have to rely on others, waiting on your rental company to deliver, install, or even relocate your temporary fence panels. 
The great thing about buying your own Anticlimb Fence Panels is just how easy it is to stack 30, 50 or even 100 panels. All you need is an easily accessible small corner in your compound that's 12' by 8' to store your temporary fencing when you're not using it.
Because of the way we've manufactured them, our fence panels are lightweight, easy to move, and easy to setup. All this combines for a convenient stacking solution for when you don't actually have a project on the go. So, keep your temporary fence securely stored and have your fence ready to go exactly when you need it.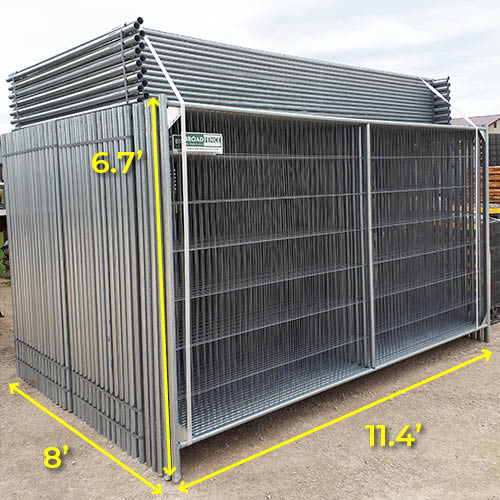 Ready for immediate shipping!
There's no need to ever worry about our inventory because we always have plenty of stock on hand, ready to ship at a moment's notice. From our yard to yours, our trucks take the fencing you need exactly where it needs to go—your project. A successful project is a safe project. So, be prepared with Broadfence.
Call us at 1.855.993.0499
"Very pleased with the product. The panels were well packed for shipping. The panels will serve us well for a long time. We were very happy all the way through the process. Will be more than happy to recommend you to others."
- Greg, Perryton, TX
"Great experience, quick and efficient service!"
- Christine, Kelowna, BC
"Amazing service. Timely, prompt, professional responses. Very knowledgeable staff. Excellent delivery."
- Chris, Winnipeg, MB
"Very satisfied with the product and the staff was very helpful in choosing the correct product for my company."
- Melissa, Chattanooga, TN
"Excellent service and commitment to schedule. Very impressed!"
- Camille, Mississauga, ON
"This is a wonderful product, It's a very nice product, it's flexible and workable, you can do tons of things with it and it makes life easier. So I am recommending it for other contractors."
- Jalal, Contractor in Pompano Beach, FL

Sign up for exclusive offers, tips and more.